//
Experience Ribière
400 stunning Ribiere big carp close to 80lb, first class accommodation, pool, facilities for families and groups - all in a relaxed and tranquil environment. Quite simply, a jewel in French carp fishing. 
The Fish
We focus on giving our big carp the best conditions to reach their maximum growth - and it shows.

We are known for our big head of big carp, with an average over 44lb. The lake was originally stocked in 2001 and there are around 400 carp to 78.8lb (May 2019). We have a mix of stunning scaly fish, fast growing commons to 64lb and our large stock of big mirrors. We have 20+ fish over 60lb and three over 70lb (72lb,76lb,78lb).  The old lake record was Julie at 84.7lb  The three biggest fish now are Mr Magoo at 78.8lb, Moonscale at 76lb and the leather at 72lb. We have a good number of growing fish over 55lb. See the 'A' Team here and in the fish gallery below.
Facilities
We have created a range of facilities to suit all of your angling needs.
The reception block contains stunning shower facilities, changing room and toilets as well as charging points for boats and phones. There are also fridges for food and bait as well as the large walk-in bait fridge for your bait needs. We have free wifi in all our accommodation. In addition we have a children's play area, heated outdoor swimming pool and sauna.


The Lake
Ribiere has been described, as a "jewel in France carp fishing" by Steve Briggs and it's easy to see why.

The lake is simply stunning. Tree-lined, tranquil and an ideal place to relax and enjoy your fishing. Fishing is from one side only and you have plenty of water allocated for each swim.

You will not get disturbed by other anglers. We have just 8 pegs in 22 acres and there are markers on the far bank designating your water. Peg 7 is the only double and commands a main bay. View map for more details or explore the pegs here.

Facilities
Accommodation
We have accommodation for all your needs. Traditional French styling and the choice from studio gites for 2-4 people to families (4-8) in our wooden chalet and larger groups in our apartments (up to 12). All are fully equipped to a high standard. So enjoy the experience with your friends and/or with the family.
Pool & Sauna
Relax and cool off in our purpose-built pool complex. Our open-air, heated 15m x 7m swimming pool with sauna facilities and shower is available to all our customers with accommodation. The pool area is an ideal retreat for the non-angler or a base for the family to relax and play.
Booking
Our booking process is simple. It's Saturday to Saturday. We open in the first week of March and finish the last week of November. You are able to book two years in advance. We open a new year's booking on the 1st January. Your date is secured on receipt of a 50% deposit and all balance payments are due eight weeks before arrival. You can contact us via our website to check availability.
Lake exclusive
It's the best way to experience Ribiere. Less pressure and more space means more chance of a very special fish. It's ideal for up to 8 anglers. We hold lake exclusive weeks in our diary so you can fish in some of the best periods. Lake exclusives include accommodation in our purpose-built apartment or chalet.

Explore Our Facilities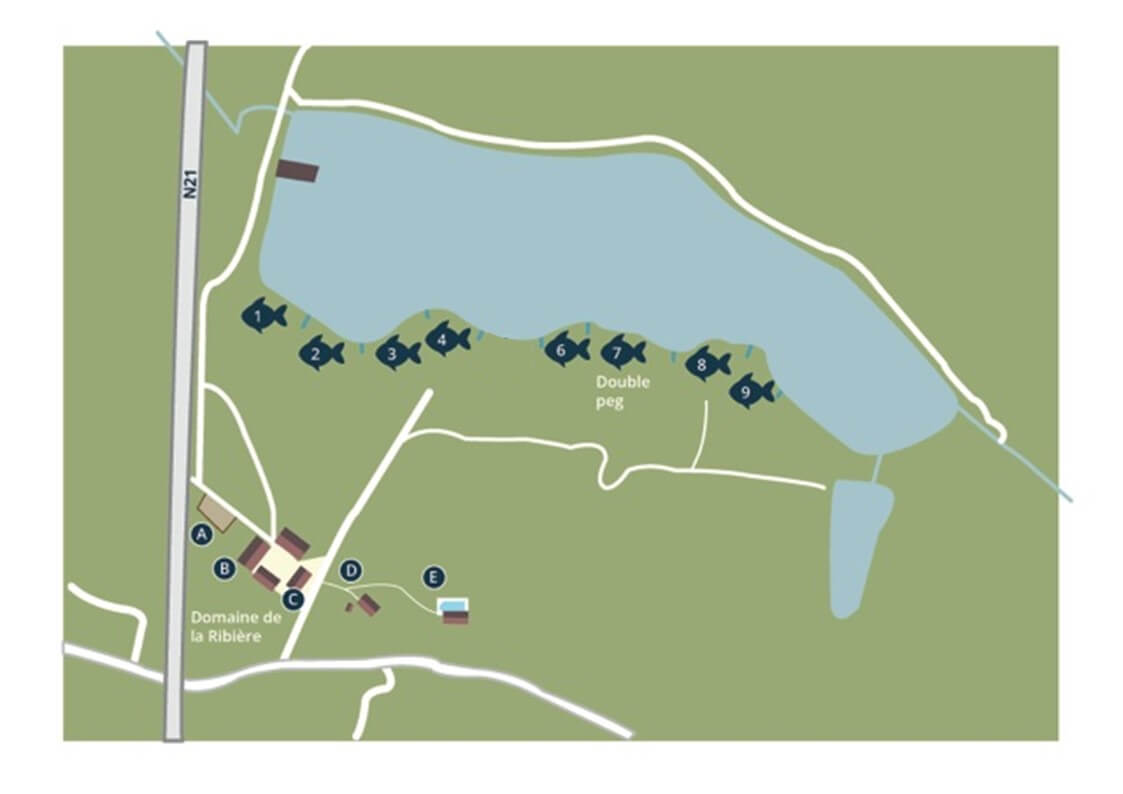 Accommodation
What sets Ribiere apart is the quality and range of accommodation.
Traditional French styling and a wide range of choice - from two person gites to family accommodation and our wooden chalet. Our lake exclusives are all housed in our purpose-built apartment with six twin/double bedrooms and large, shared kitchen and patio.
All accommodation is equipped to a high standard with showers, toilets, kitchen facilities and outside patio area. All are served by free wifi access. Anglers staying in July and August (high season) must book accommodation. Prices are shown per week.
So relax and enjoy the experience, either with your friends or with the family.
Apartment
Our largest accommodation with seven individual rooms. (Sleeps up to 12)

All rooms have their own ensuite shower/toilet, a large shared open plan kitchen/dining room and large seated terrace area. French styling meets modern living. This accommodation can be booked for large groups, lake exclusives or used as individual rooms. Ideal for family functions.
The kitchen is fully equipped with hob, fridge, microwave, washing machine.
See more here
420€ per room per week.
Gites
We have six studio gites, ideal for two people. (Sleeps 2/4)

All gites are equipped with a small kitchen [microwave, hob, washing machine], double bed and sofa bed.  All gites have TV, wifi, ensuite showers/toilets and private terrace.  They are ideal for couples, younger families or anglers wanting accommodation as part of their package. If you are arriving on a Friday and want to rent a room for the night, these are also available.            
See more here.
550€  low season - 670€ high season (July and August).

Chalet
The wooden chalet is ideal for small groups or families (Sleeps 6/8).
Situated in its own garden, close to he swimming pool and a short walk to the lake, the chalet has a double bedroom, twin room and sofa-bed in the lounge. There is a good size bathroom, open plan kitchen diner/lounge area and a sun room with an additional dining table. There is also an large annexe which can be used an an extra bedroom or playroom. It is ideal for small groups or larger families.
More information here.
990€ low season, 1200€ high season (July and August) per week.
Family Gite
The large gite is ideal for families or small groups of anglers. (Sleeps 4/6)
There are two bedrooms (one double, one twin), lounge with sofa bed and bathroom with shower. The small kitchen is fully equipped with hob, TV, microwave. Cots are available on request. Outside you have your own terrace ideal for al fresco dining during the warmer months. As with all our accommodation you have use of the pool and sauna. Free wifi is available.
See more here
650€ low season - 850€ high season (July and August).